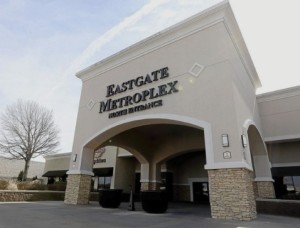 Acadia Realty Trust and Washington Square Partners would prefer not to call their new Brooklyn development City Point a "mall."
But, respectfully, it has all the trappings: There's the large department store anchor—Century 21—which opened last fall. There are the nationally recognized retailers like Target and Trader Joe's, both opened this year.
But two things set City Point aside from the shopping arcades of middle America that seem to be reeling right now.
First, there's its food hall, DeKalb Market, which opened earlier this month. It's not hawking Panda Express and Chipotle; Katz's Delicatessen, which has stayed put on the Lower East Side since 1888 and never felt the need to venture beyond the neighborhood, launched its first-ever satellite at DeKalb Market. Likewise, the Arepa Lady of Jackson Heights, Queens whose praises were lovingly sung by New York's food press for decades, has a stall. There's the Vietnamese restaurant Bunker. And Ample Hills, the ice cream maker. And on and on. People who care about food will no doubt care about DeKalb Market.
View entire article here in Commercial Observer
Find out more about commercial real estate financing or to discuss an opportunity contact Liberty Realty Capital.
via Liberty Realty Capital Group http://libertyrealtycapital.com/whats-the-secret-of-a-successful-mall/