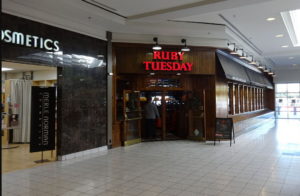 For the first time ever in 2016, U.S. restaurant sales eclipsed grocery store sales — and that's good news for retail centers
The amount of space dedicated to food in retail centers has grown from 5% in 2007 to 15% today. And the trend is expected to increase to 20% by 2025, according to a study, "The Successful Integration of Food & Beverage within Retail Real Estate," from the International Council of Shopping Centers (ICSC).
"The increasing popularity of dining out is revitalizing retail real estate around the globe by creating a true sense of community where people can go out to dinner, take in a movie and shop, all in one place," said Tom McGee, president and CEO of ICSC. "Centers that are strategic and innovative when incorporating foodservices are sure to reap benefits such as increases in foot traffic, dwell time and number of visitors."
Restaurants deliver for retail centers
The two main factors driving the growth are technology advancements and the rise of an experience economy, which was fueled by millennials and adopted by all generations.
via Liberty Realty Capital Group http://libertyrealtycapital.com/restaurants-retail-occupancy/